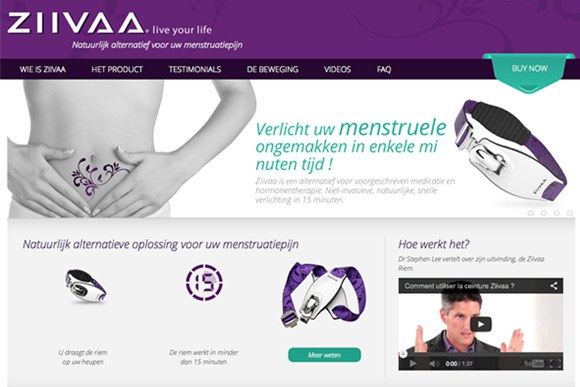 Official Launch Scheduled for March 25th
Ziivaa is pleased to announce that the ZIIVAA® belt is now available for purchase in Belgium through Palmer S.A. headquartered in Brussels. Ziivaa's mission is to help women worldwide live a life without the menstrual pain roadblock. This expansion allows the ZIIVAA® belt to become accessible in Belgium, a European hub for innovation and wellness.
Kristen Nichols, CEO, made this statement: "We are excited to partner with Pascal Van Hulle, Administrateur and Palmer Belgium in Europe; this is a key market for Ziivaa. Palmer Belgium is a sophisticated company and has a long history of providing high quality products and exceptional customer service. "
Palmer Belgium will officially launch the ZIIVAA® belt March 25th on its website www.ziivaa.be. In addition, the ZIIVAA® belt will become available through pharmacies later this year.
The ZIIVAA® belt allows women to relieve their menstrual cramps naturally without heavy medication or side effects of traditional treatments. The range and degree of debilitation varies, but for many women this can affect their employment, family, social and athletic aspirations.
To find out more about the ZIIVAA® belt in Belgium please visit www.ziivaa.be or email info@ziivaa.be.
Ziivaa® is an innovative women's wellness company located in Sarasota, FL. The ZIIVAA® belt is a non-invasive drug-free solution to alleviate menstrual cramps in just 15 minutes per treatment. It is the first and only of its kind in addressing the age-old problem of menstrual cramping. For more information or to follow the ZIIVAA® movement, visit www.ziivaa.com