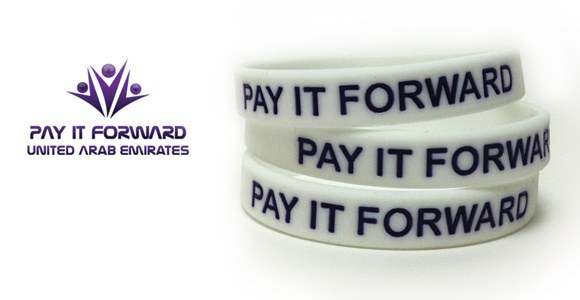 Innovation of the Human Mindset
Pay It Forward, Carousel Solutions' corporate social responsibility program, was started to remind people to help one another in a way that would create a bond between strangers or friends without asking for anything in return. The movement was based on the best-seller by Catherine Ryan Hyde and Oscar winning Hollywood hit "Pay It Forward." Shimi Shah, Ziivaa's International Executive Director and Chairperson of Carousel Solutions, was so taken with the concept of doing little acts of kindness which then get passed on to others that she contacted Catherine who in turn put her in touch with her foundation, the Pay It Forward Foundation, led by Charley Johnson. Charley, a self-made millionaire gave up his thriving business to become involved with the Pay It Forward Foundation and was instrumental in creating the Pay It Forward bracelets as a reminder to go good. To date over 3 million bracelets have been distributed globally, and there are over 120 country initiatives worldwide.
Carousel's local UAE (United Arab Emirates) initiative is called 8m 4 8m. The goal is to get 8 million Pay It Forward bracelets out in the UAE, one bracelet to symbolize each of the UAE's 8m population. "I don't necessarily want to just get out eight million bracelets on people's hands, but rather, eight million acts of kindness, which get paid forward, and multiply," Shimi Shah, said of her goal. The random acts of kindness do not have to involve money; it could be time, experience, a simple smile or a hug that can make all the difference to someone.
We encourage you to pay it forward this week in aid of Pay It Forward Month in April; you'll be making a difference that can ripple forward to more people then you can imagine.