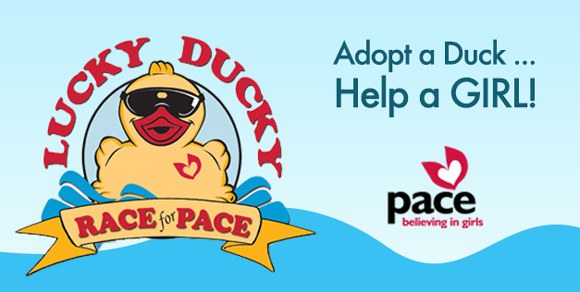 PACE Manatee County
PACE Manatee partners with community leaders to increase the awareness of the needs of girls, and provides them with new opportunities. PACE Center for Girls, Inc. is a nationally recognized organization that emphasizes on academics and social services, focusing on the future of middle and high-school aged girls and young women. PACE provides a safe environment that celebrates girls, taking into account how they learn and develop.
The Lucky Duck Race for PACE is an annual fundraiser with all the proceeds benefiting PACE Manatee. To participate in the event you simply purchase a duck for $5, a quack pack of 5 ducks for $20, or a whole flock of 30 ducks for $100. Each duck is tagged with a number specific to you. Then on Saturday, May 11th at the Bradenton Riverwalk Park each duck purchased will be placed in the Manatee River to race downstream, if your duck wins, you could win a new car!
Melissa, Ziivaa's Marketing Director, put together a team for this year's race. You can adopt through her team page here. "Adopting a duck can greatly benefit this organization and will make a difference in the life of a young woman. That's why I got involved and that is why I'm encouraging everyone I know to help support this event.", Melissa said of her involvement.
If you are interesting in finding out more about this event or about how to help visit the PACE Manatee website for more detailed information.