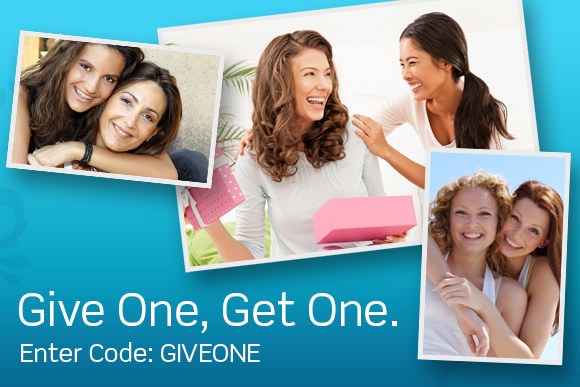 Give One . . . Get One!
1 in every 5 women suffers from severe menstrual discomfort. Stop for just one minute, think about 5 women in your life and imagine that one of them struggles each month with debilitating pain from their menstrual cycle. Pain that causes them to miss girls night, family functions, even school or work. In the spirit of giving back we have created a special offer to help those women in your life.
Now through Mother's Day, Ziivaa is offering a Give One, Get One promotion. When you purchase a ZIIVAA® belt at regular price for a friend or loved one, you will receive an additional ZIIVAA® belt. What you choose to do with the second belt is up to you. You can keep it for yourself, give it to another woman you know that suffers, donate it to a local women's resource center, or you can donate it to the ZIIVAA® Possibilities Program.
To receive the offer, customers must place two ZIIVAA® belts in the shopping cart at ziivaa.com and then enter the coupon code: GIVEONE at checkout. If you would like the ZIIVAA® belts shipped to different addresses, please specify the second address in the comment section of the order.
Ziivaa is committed to far more than ideas and inventions. Visit our Facebook page to join our community, share your story and inspire us with your ideas. To receive exclusive firsthand notice of special offers and promotions, be sure to sign up for our monthly newsletter.